Western Energy Services (TSE:WRG) had its price objective reduced by equities researchers at Cormark from C$0.90 to C$0.75 in a research report issued to clients and investors on Monday, February 4th. Cormark's price objective would indicate a potential upside of 92.31% from the company's current price.
Several other research firms have also recently weighed in on WRG. CIBC reaffirmed a "hold" rating and set a C$0.75 target price on shares of Western Energy Services in a research note on Monday, February 4th. AltaCorp Capital cut shares of Western Energy Services from an "outperform" rating to a "sector perform" rating in a research note on Monday, January 28th. Canaccord Genuity dropped their price objective on shares of Western Energy Services from C$1.00 to C$0.90 in a research note on Tuesday, October 16th. Finally, Raymond James reissued a "market perform" rating and issued a C$0.50 price objective on shares of Western Energy Services in a research note on Thursday, January 24th. Five analysts have rated the stock with a hold rating and one has issued a buy rating to the stock. The stock currently has a consensus rating of "Hold" and an average price target of C$0.72.
WRG traded up C$0.02 during trading on Monday, hitting C$0.39. 86,500 shares of the company traded hands, compared to its average volume of 51,790. The stock has a market capitalization of $35.08 million and a price-to-earnings ratio of -0.87. Western Energy Services has a 1 year low of C$0.34 and a 1 year high of C$1.25. The company has a debt-to-equity ratio of 63.34, a quick ratio of 1.27 and a current ratio of 1.44.
Western Energy Services Company Profile
Western Energy Services Corp. operates as an oilfield service company in Canada and the United States. The company operates through Contract Drilling and Production Services segments. The Contract Drilling segment operates drilling rigs and related ancillary equipment. It operates a fleet of 56 drilling rigs, including 50 in Canada and 6 in the United States.
Further Reading: Penny Stocks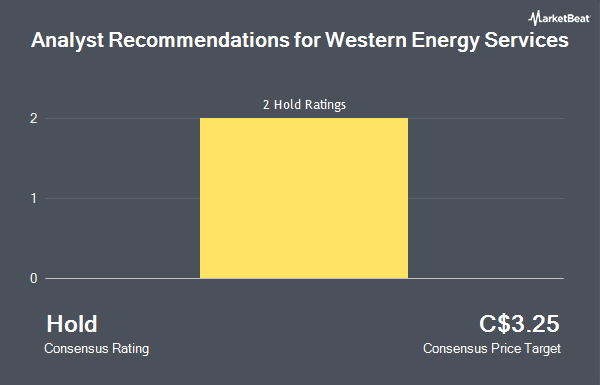 Receive News & Ratings for Western Energy Services Daily - Enter your email address below to receive a concise daily summary of the latest news and analysts' ratings for Western Energy Services and related companies with MarketBeat.com's FREE daily email newsletter.