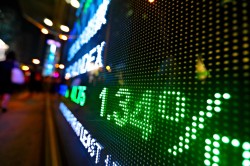 RediShred Capital (CVE:KUT) had its target price hoisted by research analysts at Acumen Capital from C$1.10 to C$1.20 in a report released on Monday, February 4th. Acumen Capital's price objective would indicate a potential upside of 50.00% from the company's previous close.
KUT remained flat at $C$0.80 on Monday. The company's stock had a trading volume of 7,000 shares, compared to its average volume of 27,444. RediShred Capital has a fifty-two week low of C$0.55 and a fifty-two week high of C$0.84. The firm has a market cap of $53.23 million and a PE ratio of 19.51. The company has a current ratio of 6.18, a quick ratio of 5.98 and a debt-to-equity ratio of 19.08.
About RediShred Capital
RediShred Capital Corp., through its subsidiaries, provides onsite shredding services under the Proshred brand in the United States and internationally. The company grants and manages shredding business franchises under the Proshred trademark; operates in corporate shredding businesses; and supports the franchises.
Read More: The role of implied volatility with call option volume
Receive News & Ratings for RediShred Capital Daily - Enter your email address below to receive a concise daily summary of the latest news and analysts' ratings for RediShred Capital and related companies with MarketBeat.com's FREE daily email newsletter.