Kinross Gold (TSE:K) (NYSE:KGC) had its price objective reduced by equities researchers at National Bank Financial from C$5.75 to C$5.50 in a research report issued to clients and investors on Monday, February 4th. The brokerage presently has an "outperform" rating on the stock. National Bank Financial's price objective would indicate a potential upside of 29.11% from the company's current price. National Bank Financial also issued estimates for Kinross Gold's Q4 2018 earnings at ($0.01) EPS, FY2018 earnings at $0.10 EPS and FY2019 earnings at $0.22 EPS.
Several other equities research analysts have also issued reports on K. Beacon Securities restated a "buy" rating on shares of Kinross Gold in a report on Monday, November 19th. Canaccord Genuity decreased their price objective on shares of Kinross Gold from C$7.50 to C$6.50 in a report on Thursday, October 18th. Finally, Barclays reiterated an "overweight" rating and set a C$4.00 price objective on shares of Kinross Gold in a report on Wednesday, October 10th. One investment analyst has rated the stock with a hold rating and four have given a buy rating to the company. The company presently has a consensus rating of "Buy" and an average price target of C$5.33.
K traded down C$0.13 during trading on Monday, hitting C$4.26. 3,678,100 shares of the company traded hands, compared to its average volume of 3,793,289. The stock has a market capitalization of $5.33 billion and a price-to-earnings ratio of -213.00. Kinross Gold has a 1 year low of C$3.15 and a 1 year high of C$5.34. The company has a debt-to-equity ratio of 38.32, a quick ratio of 0.80 and a current ratio of 2.61.
Kinross Gold (TSE:K) (NYSE:KGC) last issued its quarterly earnings data on Wednesday, February 13th. The company reported C$0.01 EPS for the quarter. The business had revenue of C$1.04 billion during the quarter, compared to analysts' expectations of C$1.01 billion. On average, equities research analysts forecast that Kinross Gold will post 0.130000000293454 earnings per share for the current year.
Kinross Gold Company Profile
Kinross Gold Corporation, together with its subsidiaries, engages in the acquisition, exploration, and development of gold properties in the United States, the Russian Federation, Brazil, Chile, Ghana, and Mauritania. It is also involved in the reclamation of gold mining properties; and production and sale of silver.
Featured Article: LIBOR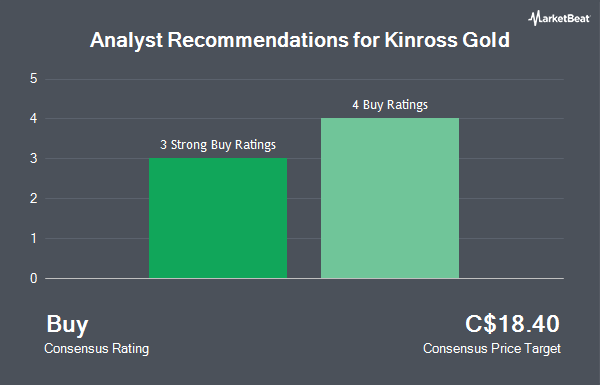 Receive News & Ratings for Kinross Gold Daily - Enter your email address below to receive a concise daily summary of the latest news and analysts' ratings for Kinross Gold and related companies with MarketBeat.com's FREE daily email newsletter.