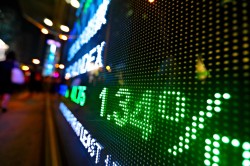 Anglesey Mining Plc (LON:AYM)'s share price traded up 13.7% during trading on Thursday . The stock traded as high as GBX 1.45 ($0.02) and last traded at GBX 1.45 ($0.02). 133,491 shares changed hands during trading, a decline of 43% from the average session volume of 235,830 shares. The stock had previously closed at GBX 1.28 ($0.02).
Anglesey Mining (LON:AYM) last posted its quarterly earnings data on Friday, November 30th. The mining company reported GBX (0.10) ($0.00) earnings per share for the quarter.
COPYRIGHT VIOLATION NOTICE: This report was posted by XNewsPress and is the sole property of of XNewsPress. If you are accessing this report on another website, it was illegally stolen and republished in violation of international copyright laws. The correct version of this report can be read at https://xnewspress.com/news/2018/12/06/anglesey-mining-aym-trading-13-7-higher.html.
About Anglesey Mining (LON:AYM)
Anglesey Mining plc, a mining company, engages in exploring, evaluating, and developing mineral properties. The company owns a 100% interest in the Parys Mountain underground zinc-copper-lead-silver-gold deposit in North Wales, the United Kingdom. It also has a 12% interest in the Labrador iron project located in Labrador and Quebec; and 6% interest in the Grangesberg iron ore mine situated in Bergslagen district of central Sweden.
Featured Article: Average Daily Trade Volume – What You Need to Know

Receive News & Ratings for Anglesey Mining Daily - Enter your email address below to receive a concise daily summary of the latest news and analysts' ratings for Anglesey Mining and related companies with MarketBeat.com's FREE daily email newsletter.