Roots (TSE:ROOT) had its price target decreased by stock analysts at National Bank Financial from C$14.50 to C$13.50 in a report released on Monday, September 10th. The firm presently has an "outperform" rating on the stock. National Bank Financial's price target indicates a potential upside of 120.23% from the stock's previous close.
A number of other analysts have also recently commented on ROOT. BMO Capital Markets reiterated an "outperform" rating and issued a C$16.00 price target on shares of Roots in a research note on Monday, June 18th. TD Securities set a C$17.00 target price on shares of Roots in a research note on Monday, June 11th. Finally, CIBC cut their target price on shares of Roots from C$14.00 to C$13.00 in a research note on Thursday, June 14th. Two investment analysts have rated the stock with a hold rating, five have given a buy rating and one has given a strong buy rating to the stock. Roots has a consensus rating of "Buy" and a consensus price target of C$13.33.
Roots stock traded up C$0.15 during mid-day trading on Monday, reaching C$6.13. The company's stock had a trading volume of 109,700 shares, compared to its average volume of 110,723. Roots has a 12 month low of C$5.95 and a 12 month high of C$13.55.
In other Roots news, Director James Alan Gabel sold 3,400 shares of Roots stock in a transaction dated Tuesday, July 17th. The shares were sold at an average price of C$10.46, for a total value of C$35,564.00.
Roots Company Profile
Roots Corporation, together with its subsidiaries, provides a portfolio of apparel, leather goods, accessories, and footwear products under the Roots brand. The company operates through two segments, Direct-To-Consumer (DTC), and Partners and Other. The DTC segment sells products through the company's corporate retail stores and e-commerce.
Further Reading: What is the Dow Jones Industrial Average (DJIA)?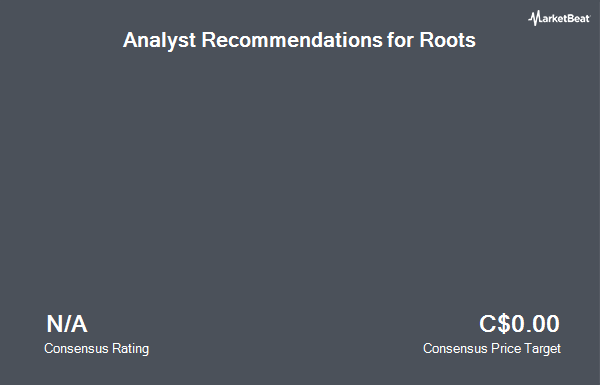 Receive News & Ratings for Roots Daily - Enter your email address below to receive a concise daily summary of the latest news and analysts' ratings for Roots and related companies with MarketBeat.com's FREE daily email newsletter.