Devro plc (LON:DVO) has earned a consensus recommendation of "Hold" from the seven ratings firms that are currently covering the company, MarketBeat Ratings reports. One equities research analyst has rated the stock with a sell rating, four have issued a hold rating and two have given a buy rating to the company. The average 1 year price objective among brokerages that have issued ratings on the stock in the last year is GBX 208.50 ($2.72).
A number of research analysts have weighed in on DVO shares. Peel Hunt reaffirmed a "hold" rating on shares of Devro in a report on Monday, July 2nd. Societe Generale lifted their target price on Devro from GBX 190 ($2.47) to GBX 225 ($2.93) and gave the company a "hold" rating in a report on Thursday, June 7th. Kepler Capital Markets reaffirmed a "buy" rating on shares of Devro in a report on Wednesday, September 5th. Finally, BNP Paribas lowered Devro to an "underperform" rating and reduced their target price for the company from GBX 195 ($2.54) to GBX 185 ($2.41) in a report on Tuesday, May 29th.
DVO remained flat at $GBX 195 ($2.54) during trading hours on Thursday. The company had a trading volume of 398,715 shares, compared to its average volume of 128,464. Devro has a 52 week low of GBX 175 ($2.28) and a 52 week high of GBX 247 ($3.22).
The business also recently announced a dividend, which will be paid on Friday, October 5th. Shareholders of record on Thursday, August 23rd will be issued a dividend of GBX 2.70 ($0.04) per share. This represents a yield of 1.35%. The ex-dividend date is Thursday, August 23rd.
In related news, insider Rutger Helbing bought 15,000 shares of Devro stock in a transaction on Thursday, August 9th. The stock was acquired at an average price of GBX 198 ($2.58) per share, with a total value of £29,700 ($38,686.99).
About Devro
Devro plc, together with its subsidiaries, manufactures and supplies collagen casings in the Americas, Europe, and the Asia-Pacific. It offers edible and non-edible collagen casings, tubular films, and plastic casings for use in the production of a range of sausages and other meat products. The company sells its products to food manufacturers through agents and distributors under the Devro, Cutisin, Edicol, and Ralex names.
Recommended Story: Diversification in Investing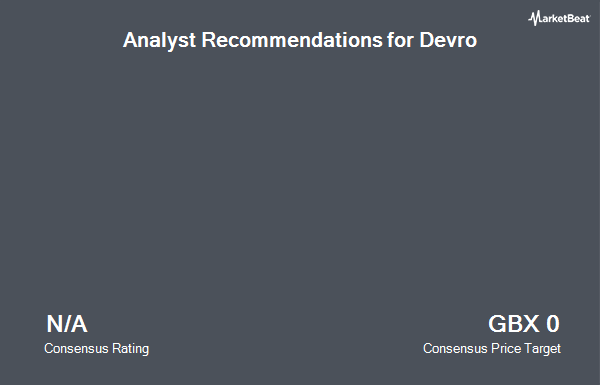 Receive News & Ratings for Devro Daily - Enter your email address below to receive a concise daily summary of the latest news and analysts' ratings for Devro and related companies with MarketBeat.com's FREE daily email newsletter.