Centrica (LON:CNA)'s stock had its "overweight" rating reissued by equities researchers at JPMorgan Chase & Co. in a research note issued on Wednesday, September 12th.
Several other research firms also recently issued reports on CNA. Deutsche Bank reiterated a "sell" rating on shares of Centrica in a research note on Thursday, August 9th. Berenberg Bank decreased their target price on Centrica from GBX 240 ($3.13) to GBX 170 ($2.21) and set a "buy" rating for the company in a research note on Wednesday, July 18th. Morgan Stanley downgraded Centrica to an "underweight" rating in a research note on Wednesday, May 16th. HSBC downgraded Centrica to a "reduce" rating and raised their price objective for the stock from GBX 130 ($1.69) to GBX 142 ($1.85) in a research report on Friday, September 7th. Finally, Jefferies Financial Group upgraded Centrica to a "buy" rating and raised their price objective for the stock from GBX 140 ($1.82) to GBX 165 ($2.15) in a research report on Tuesday, June 12th. Three investment analysts have rated the stock with a sell rating, two have given a hold rating and eight have issued a buy rating to the company. Centrica presently has a consensus rating of "Hold" and an average target price of GBX 163.69 ($2.13).
CNA stock remained flat at $GBX 150.50 ($1.96) during mid-day trading on Wednesday. The company's stock had a trading volume of 17,421,036 shares, compared to its average volume of 26,600,000. Centrica has a 12 month low of GBX 119.71 ($1.56) and a 12 month high of GBX 221 ($2.88).
Centrica (LON:CNA) last released its quarterly earnings results on Tuesday, July 31st. The integrated energy company reported GBX 6.40 ($0.08) earnings per share (EPS) for the quarter, missing the consensus estimate of GBX 9.80 ($0.13) by GBX (3.40) (($0.04)). Centrica had a return on equity of 21.95% and a net margin of 2.16%.
In related news, insider Jeff Bell sold 81,009 shares of Centrica stock in a transaction on Tuesday, August 7th. The shares were sold at an average price of GBX 147 ($1.91), for a total value of £119,083.23 ($155,116.88). Also, insider Margherita D. Valle acquired 1,306 shares of the firm's stock in a transaction on Wednesday, July 25th. The stock was purchased at an average price of GBX 151 ($1.97) per share, for a total transaction of £1,972.06 ($2,568.79). Insiders acquired a total of 4,236 shares of company stock worth $623,715 over the last quarter.
About Centrica
Centrica plc operates as an integrated energy company in the United Kingdom, the Republic of Ireland, Germany, Norway, rest of Europe, the United States, Canada, and internationally. The company operates through Centrica Consumer, Centrica Business, Exploration & Production, and Centrica Storage segments.
Further Reading: Asset Allocation, Balancing Your Investments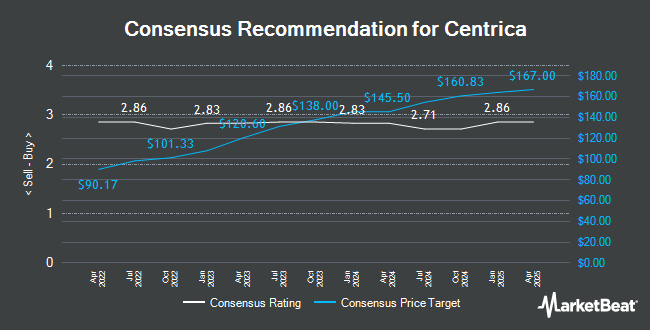 Receive News & Ratings for Centrica Daily - Enter your email address below to receive a concise daily summary of the latest news and analysts' ratings for Centrica and related companies with MarketBeat.com's FREE daily email newsletter.