Bellway (LON:BWY) had its price target cut by Barclays from GBX 3,584 ($46.68) to GBX 3,390 ($44.16) in a research report sent to investors on Wednesday, September 12th. They currently have an equal weight rating on the stock.
Several other research firms have also weighed in on BWY. Deutsche Bank raised Bellway to a buy rating and upped their price target for the company from GBX 3,716 ($48.40) to GBX 3,745 ($48.78) in a research report on Thursday, August 30th. UBS Group reissued a buy rating on shares of Bellway in a research report on Monday, July 30th. Berenberg Bank initiated coverage on Bellway in a research report on Wednesday, July 25th. They set a buy rating and a GBX 3,760 ($48.98) price target on the stock. Liberum Capital reaffirmed a buy rating and issued a GBX 4,080 ($53.15) target price on shares of Bellway in a research report on Friday, May 25th. Finally, Peel Hunt reaffirmed a buy rating on shares of Bellway in a research report on Tuesday, June 12th. Two equities research analysts have rated the stock with a hold rating and eleven have issued a buy rating to the stock. The stock presently has a consensus rating of Buy and an average target price of GBX 3,916.30 ($51.01).
Shares of Bellway stock remained flat at $GBX 2,951 ($38.44) on Wednesday. The stock had a trading volume of 378,451 shares, compared to its average volume of 535,129. Bellway has a 12 month low of GBX 2,654 ($34.57) and a 12 month high of GBX 3,805 ($49.56).
About Bellway
Bellway p.l.c., together with its subsidiaries, engages in the house building business in the United Kingdom. It builds and sells homes ranging from one-bedroom apartments to six-bedroom family homes, as well as provides social housing to housing associations. It owns and controls 37,855 plots of land.
Further Reading: Hedge Funds – Risk or Reward?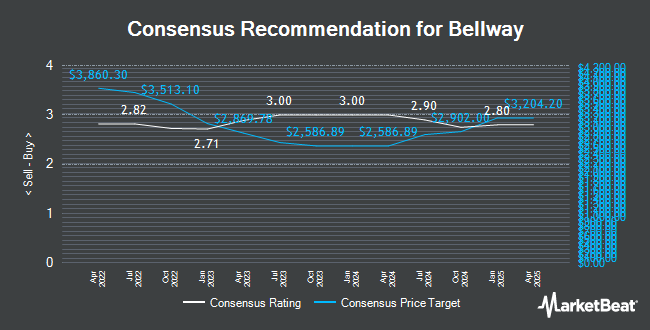 Receive News & Ratings for Bellway Daily - Enter your email address below to receive a concise daily summary of the latest news and analysts' ratings for Bellway and related companies with MarketBeat.com's FREE daily email newsletter.